Delivering Uncompromising Quality: Trust ADC Aerospace for Precision-Engineered Solutions
At ADC Aerospace, we place a premium on delivering exceptional quality in every facet of our operations. With an unwavering commitment to precision engineering, we provide the aerospace industry with superior die casting solutions. Our dedication to quality is evident in our certifications, stringent inspection capabilities, and comprehensive quality policy.
Certifications and Compliance: Setting the Standard
ADC Aerospace holds prestigious certifications that reflect our commitment to quality and compliance with industry standards. Our AS9100 and ISO9001 certifications ensure that our processes and systems meet the most stringent aerospace industry standards. Furthermore, being ITAR- registered displays our dedication to preserving sensitive defense and national security information. These certificates demonstrate our commitment to maintaining the highest quality standards throughout our operations.
Robust Inspection Capabilities: Ensuring Precision and Reliability
ADC Aerospace deploys advanced inspection capabilities at every level of the manufacturing process to assure the quality and reliability of our products. Our automated Coordinate Measuring Machines (CMM) with PC DMIS software allow for precise and efficient dimensional inspection. Real-time x-ray inspection ensures the integrity of important components by allowing for non-destructive examination. Our climate-controlled inspection room is perfect for thorough inspection, and immersion and vacuum pressure testing ensure product performance under severe conditions. We maintain stringent quality standards and accomplish excellent outcomes through employing these advanced inspection techniques and utilizing Statistical Process Control (SPC) software.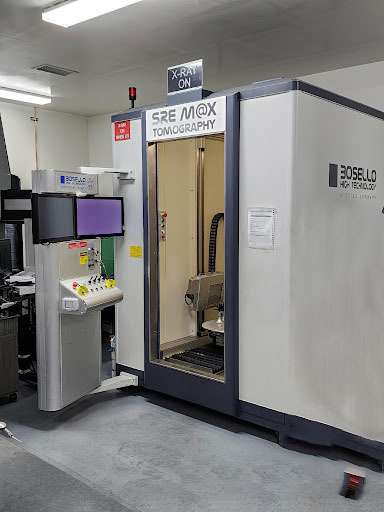 Quality Policy: Customer Satisfaction and Continuous Improvement
Our dedication to excellence is driven by our quality philosophy at ADC Aerospace. We strive for client satisfaction by providing products and services that exceed expectations. We are committed to continuously upgrading our processes to remain at the forefront of industry innovations. Our quality assurance standards are interwoven into every step of our processes because we are committed to satisfying all applicable regulations while ensuring safety and quality. We aim for excellence in all aspects of our business to ensure that our customers receive only the best products and services.
Delivery Rate and Return Rates: Reliability and Customer Satisfaction
ADC Aerospace acknowledges the importance of on-time delivery and its impact on customer satisfaction. Our streamlined processes and efficient project management allow us to fulfill tight deadlines without sacrificing quality. We take pleasure in our high delivery rate, which ensures that our customers receive their products on time and as specified. Furthermore, because we aim for perfection in every component we offer, our commitment to quality reduces return rates. We develop great partnerships and foster long-term consumer trust by continually exceeding expectations and ensuring exceptional quality.
Uncompromising Quality with ADC Aerospace
Thanks to our certifications, extensive inspection capabilities, and thorough quality policy, you can rely on ADC Aerospace's unrelenting dedication to excellence, precision-engineered die casting solutions, and impressive customer service to meet the most stringent industry requirements. Experience the fine craftsmanship that comes from our dedication to providing uncompromising quality and partnering with a trusted leader in the aerospace industry. Contact ADC Aerospace today to discuss your precision-engineered solutions and discover how we can exceed your expectations.
ADC Aerospace
Everything is completed in-house.
Low return rate.
High on-time delivery rate.