High Pressure Die Casting
Specialized Die Casting Services
As a well-known manufacturer, we take pride in providing high-quality die-casting services to the aerospace industry. We regularly create complicated aerospace components with remarkable precision and dependability by focusing on high-pressure die casting and applying techniques such as vacuum die casting.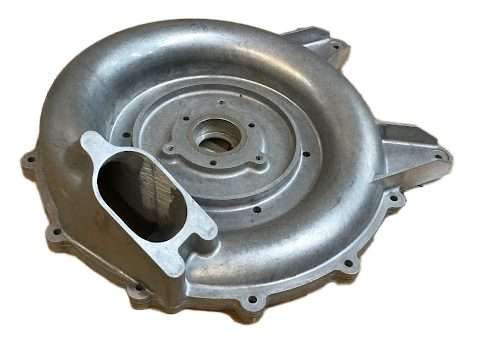 High-Pressure Die Casting
We specialize in high-pressure die casting, a versatile manufacturing process that allows us to develop highly complex aerospace components. We employ sophisticated machinery and technology to use focused pressure to inject molten metal into precision-engineered molds, resulting in components with excellent dimensional accuracy and surface quality. Our experienced team guarantees that the entire die casting process complies with strict quality standards, ensuring the highest integrity and uniformity of the components produced.
We offer vacuum die casting services in support of high-pressure die casting, which improves the quality and performance of aerospace components. Vacuum die casting is a specialized technology that includes removing air and gas from the die cavity before injecting molten metal. Vacuum die casting provides components with increased structural integrity, decreased internal flaws, and superior mechanical qualities by eliminating trapped air and reducing porosity. This approach is very useful in aerospace applications where components must conform to harsh operating conditions and strict performance criteria.
We maintain the highest quality standards (ISO9001 and AS9100) throughout the die-casting process to ensure that the manufactured components meet or surpass customer requirements. Comprehensive inspection techniques, such as dimensional verification, material testing, and non-destructive testing are part of our quality assurance practices. We utilize advanced metrology tools and technology to ensure that each component's dimensional accuracy and conformance are exactly aligned with the design parameters.
Contact Us to Learn More!
We provide aerospace clients with reliable and high-quality components with our advanced die casting services that include high-pressure die casting and vacuum die casting. Our die-casting capabilities help us to handle the challenging requirements of the aerospace sector, whether it's intricate engine parts, structural components, or fluid distribution systems. Contact us immediately to take advantage of our experience and secure the manufacturing of high-quality aircraft components with our cutting-edge die-casting services.
ADC Aerospace
Everything is completed in-house.
Low return rate.
High on-time delivery rate.